COVID-19 Notice
We're open 11am – 10pm!
Walk-up orders, call ahead, or order online for delivery or curbside pick-up!
Call (215) 629-5760 or Click Here to Order Online
The best cheesesteak in philly
Old City, Phila.
Welcome to
Sonny's Famous Steaks
Sonny's is famous for serving the best cheesesteaks in Philly. It's just a five-minute walk from The Liberty Bell, Independence Hall, and the Constitution Center – right in the heart of Old City, Philadelphia.
Sonny's has received countless awards and honors. It was named "The Best Cheesesteak in Philly" by GQ magazine and US News and World Report ranks Sonny's one of the top five Philly cheesesteaks in the city.
Sonny's is perfect for school trips and large groups because there is something for everyone. The menu includes more than a variety of cheesesteaks and burgers. Vegetarians can enjoy a deluxe grilled cheese sandwich and a side dish. Don't forget to ask about our gluten-free rolls!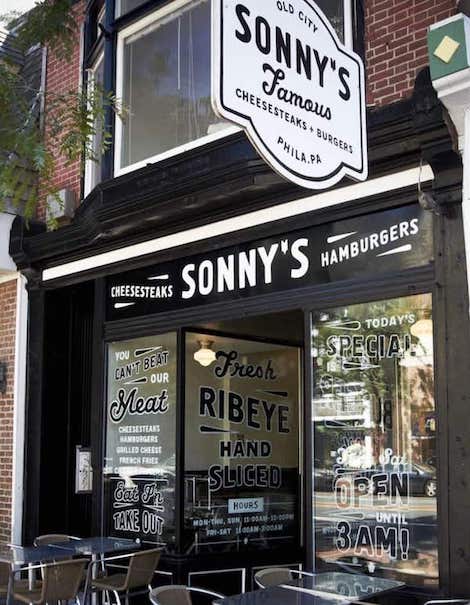 Reservations for Tour Groups and School Field Trips
Are you with a large group looking for some good ol' fashioned Philly dining? We got you covered! We welcome tours, business groups, student field trips, weddings, and more.  We work with organizers to accommodate tight schedules and last-minute changes! We even offer discounts and dining packages. Contact us through the form on our Group page!
Hours
Everyday:
11 am - 10 pm
We accept cash and major credit cards.