Groups, Tours, Parties, and Catering
After many requests, Sonny's is now officially accepting large group reservations! We host everyone from tour groups to school field trips. So if you're going to be in town, come to Old city to enjoy Philly's finest local cuisine — the cheesesteak!
For large pre-orders, we can deliver (50 steaks or more within 10 miles of our location — additional fees may apply). Perfect for all occasions from office parties to weddings!
Scroll down to fill out our group form!
We make things easy
– Host groups of 150+ for lunch
– Indoor seating or deliver nearby (parks, hotels, etc.) — we have deals set-up with many nearby facilities!
– Time restraints from school? No problem! We'll help you figure it out!
– Large group, education, ABA, university, student, discounts
– Conveniently located in Old City –– steps from the popular historic monuments!
– Super friendly, helpful staff
– Bathrooms! (It's a rarity around here!)
– Group reservations
Please fill out the form below and we will get back to you in a few days.
Delicious & Fun!
At Sonny's, we passionately believe that everyone has the right to an authentic Philly cheesesteak experience. So when we have a group of visitors — old or young — we're happy to answer any and all questions ("What does wit or witout mean?" – We'll tell you!) to make sure your meal is perfect and everyone's happy.
Book Online!
Fill this out if you are planning to bring a group to Sonny's or are looking to have Sonny's cater your next event (weddings, bar-mitzvah's, office parties, you name it!).
We'll get back to you as soon as possible! (And if we don't, feel free to annoy us and call and e-mail and stuff).
Please try to give us as much notice as possible. If you're reserving a group with less than a 48 hour notice, still fill out this form but please call us 24 hours before to confirm.
Note on Delivery:
If you are with a school or tour group and you are eating somewhere local like a park or dining hall, we can most likely deliver! Please mention this in the form.
If you would like us to deliver to an event like a wedding, bar-mitzvah or party, we can try to accommodate within 50 miles. No promises. Mention this in the form.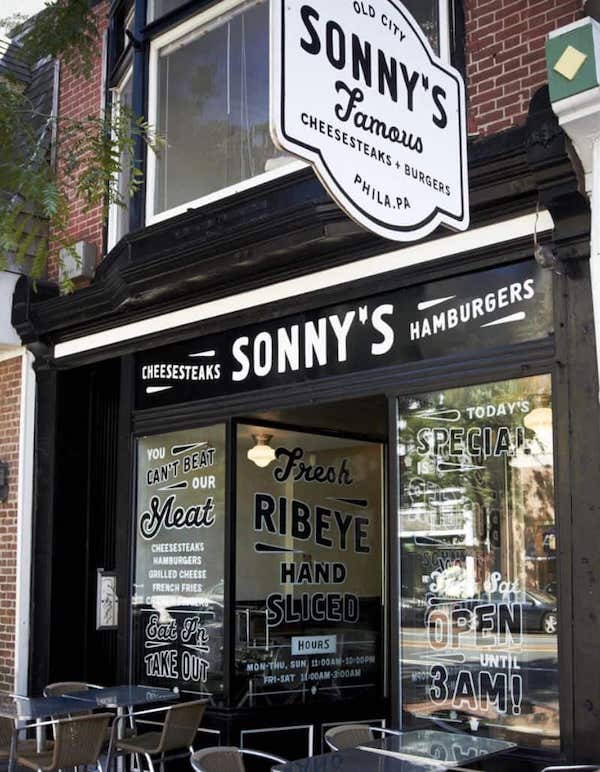 Hours
Everyday:
11 am - 10 pm
We accept cash and major credit cards.