Philly's Best Cheesesteaks
Sonny's serves fresh hand sliced ribeye cheesesteaks and juicy 100% angus beef burgers with a classic butcher shop feel. Our storefront is located on Market Street in Old City, Philadelphia.
Let's Plan Your Trip!
At Sonny's, we passionately believe that everyone has the right to an authentic Philly cheesesteak experience. So when we have a group of visitors — old or young — we're happy to answer any and all questions ("What does wit or witout mean?" – We'll tell you!) to make sure your meal is perfect and everyone's happy.
Other group accommodations include:
– Host groups of 150+ for lunch
– Indoor seating or deliver nearby (parks, hotels, etc.)
– We can accommodate busy schedules
– Group and student discounts
– In historical Old City — minutes from the Liberty Bell!
– Super friendly, helpful staff
– Bathrooms! (It's a rarity around here!)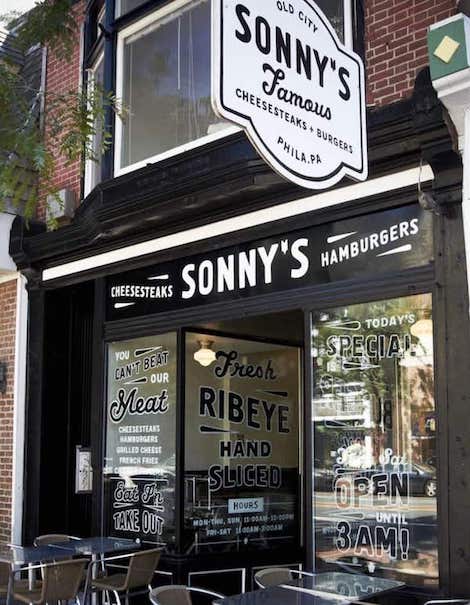 Sonny's Famous Steaks
Sonny's is known for its authentic, award-winning Philly Cheesesteaks and its friendly service. It's located in the heart of historic Old City, Philadelphia. It's just five minute walk from Independence Hall, The Liberty Bell, and the Constitution Center.
Sonny's has received countless awards and honors. For example, it was named "The Best Cheesesteak in Philly" by GQ magazine. Even US News and World Report ranks Sonny's in the top five Philly cheesesteaks in the city.
The menu features something for everyone — including vegetarians! There are a variety of cheesesteaks and burgers. Gluten free cheesesteak rolls are available. And even our delicious grilled cheese sandwiches for vegetarians.
Hours
Everyday:
11 am - 10 pm
We accept cash and major credit cards.